This needs a stretch.
Needed:
* Physical appearance.
* Skills and abilities.
Abigail Gluck
Vital Statistics
Gender
Female
Hair color
Gray (born brown)
Eye color
Black
Abigail Gluck was a member of the Benevolent Lodge of Mystery.
Physical appearance
Abigail was a Caucasian female. She wore a pink and white dress, along with goggles. She had dark hair at one point, but it turned white.
Skills and abilities
Insert details here.
History
Early life
She traveled around the world, solving mysteries with the rest of the Benevolent Lodge of Mystery.
She became an associate of Professor Pericles in Bavaria in the 1930's, before he joined the old Mystery Incorporated.
She lived her last years in the sunken ruins of old Crystal Cove with an army of robots.
Scooby-Doo! Mystery Incorporated
Season two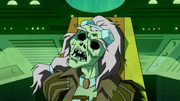 Her portrait was included in the painting of the Benevolent Lodge of Mystery at the Burlington Library. (Night Terrors)
The gang discovered her corpse in her underwater robot factory. Professor Pericles projected a giant hologram of her head to frighten them. (The Midnight Zone)
Notes/trivia
She must have been at least in her sixties when she knew Pericles, since she was a young woman in the 1880's and met him in the 1930's. At that time she was very well-preserved, only showing her age by her gray hair.
It must have been her ghost that spoke the word "Nibiru," since Pericles would have no reason to inform the gang about it, knowing it might prompt them closer, giving them an edge.
Appearances