Abner
Vital Statistics
Species
Human
Gender
Male
Hair color
Dusty brown
Eye color
Black
Other Statistics
Occupation
Robber (incarcerated)
Abner is a citizen of Cobb Corner.
Physical appearance
He is a Caucasian male with long dusty brown hair.
Personality
He does not show many emotions and doesn't speak much.
History
Early life
He had previously stolen money from a bank and buried it in an open field, only to return to discover the field had grown into a massive cornfield.
Scooby-Doo! and the Spooky Scarecrow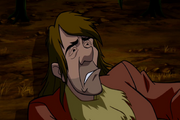 He used the legend of Cornfield Clem to keep people away from the corn maze while he searched for his stolen money. He was defeated by Mystery Inc. and arrested by Sheriff Kern.
Appearances