Africa
Vital Statistics
Type
Continent
Africa is a continent. It was a Laff-a-Lympics site on two occasions, and the gang has had several adventures there.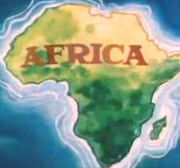 History
Laff-a-Lympics
Season one
The contestants did a boat race and a jungle vine-swinging contest there.[1]
Season two
The contestants did a roller-scooter race there, in the city of Casablanca.[2]
Scooby-Doo and Scrappy-Doo (second series)
Nazrat of the Jungle thought Shaggy Rogers and the dogs were trespassing in his domain.[3]
The New Scooby and Scrappy Doo Show
The kids headed to a game preserve in the African jungle, to discover what was behind the disappearances of the jungle animals.[4]
The 13 Ghosts of Scooby-Doo
The gang hunted a mirror demon in Marrakesh.[5]
What's New, Scooby-Doo?
Season one
The Hatari Game Preserve there was disturbed by glowing animals that behaved strangely.[6]
Appearances
Other continuities
Scooby-Doo! Mystery Incorporated
In Scooby-Doo's feverish dream, the human members of several mystery-solving teams were almost shipped off to Africa by Lord Infernicus.[7]
During his date with Daphne Blake at the Bloody Stake restaurant, Baylor Hotner told her that he would be going to Africa within a month to promote his "Green Jeans" clothing, and that he would like her to come along.[8]
References
Ad blocker interference detected!
Wikia is a free-to-use site that makes money from advertising. We have a modified experience for viewers using ad blockers

Wikia is not accessible if you've made further modifications. Remove the custom ad blocker rule(s) and the page will load as expected.