| | |
| --- | --- |
| | This needs a stretch. |
Template:Character Infobox
Agent #1 works for Dr. Phineus Phibes. He is Phibes's most loyal agent[1]. He often has to work with the dim-witted Agent 2.
Physical appearance
Insert details here.
Personality
He hates the "Dog" and "Hippy Boy" as much as his boss. He also gets irritated by Agent 2's stupidity, which he often slaps him over the head for, usually ordered by Dr. Phibes.
History
Shaggy & Scooby-Doo Get A Clue!
Season one
Insert details here. (Shags To Riches)
Insert details here. (High Society Scooby)
Season two
Insert details here. (Shaggy And Scooby World)
Insert details here. (Super Scary Movie Night)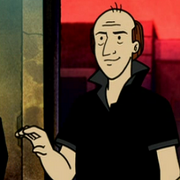 He appears for the first time in civilian clothes. (Runaway Robi)
Insert details here. (Uncle Albert Alert)
Appearances
Quotes
Notes/trivia
References