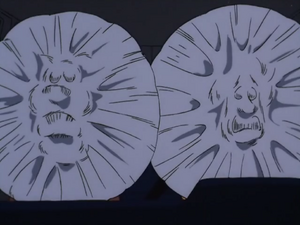 An airbag is a vehicle safety device. It is a type of occupant restraint system that consists of a flexible fabric bag, also known as an airbag cushion. The airbag module is designed to inflate rapidly then quickly deflate during a collision or impact with another object or a sudden deceleration. The purpose of the airbag is to provide occupant protection and restraint during a crash event. The airbag provides an energy absorbing surface between the vehicle's occupant and a steering wheel, instrumental panel, A-B-C- structural body frame pillars, headliner and windshield/windscreen.
History
Scooby-Doo and the Alien Invaders
Driving through the New Mexico desert, the sight of an alien ship above, with its blinding lights on top of the Mystery Machine, causes Shaggy Rogers to crash into a cactus. Fortunately, he (and Scooby-Doo who was up front with him) was saved by its airbag cushion.[1]
Scooby-Doo! Mystery Moon Madness
When Daphne Blake took her driving test at the DMV, she promptly crashed the Mystery Machine, which caused the airbags to pop out on her and her examiner.[2]
Appearances
References
External links