Alan Burnett is a writer and producer in animation. He has written episodes for The Smurfs, DuckTales, and Batman: The Animated Series. He suggested the name "Darkwing" in Darkwing Duck. Since 2009, he has been producer of most of Warner Bros. Animation's direct-to-video films, which include Scooby-Doo, Tom and Jerry, and DC Comics.
Crew credits
TV series
Direct-to-video films
Direct-to-video short films
TV specials
Appearances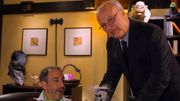 External links
Ad blocker interference detected!
Wikia is a free-to-use site that makes money from advertising. We have a modified experience for viewers using ad blockers

Wikia is not accessible if you've made further modifications. Remove the custom ad blocker rule(s) and the page will load as expected.