Ad blocker interference detected!
Wikia is a free-to-use site that makes money from advertising. We have a modified experience for viewers using ad blockers

Wikia is not accessible if you've made further modifications. Remove the custom ad blocker rule(s) and the page will load as expected.
Alan Burnett is a writer and producer in animation. He has written episodes for The Smurfs, DuckTales, and Batman: The Animated Series. He suggested the name "Darkwing" in Darkwing Duck. Since 2009, he has been producer of most of Warner Bros. Animation's direct-to-video films, which include Scooby-Doo, Tom and Jerry, and DC Comics.
Crew credits
TV series
Direct-to-video films
Direct-to-video short films
TV specials
Appearances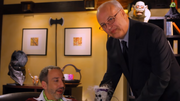 External links