This needs a stretch. (Feel to remove when satisfied of completion.)
Needed:
* Physical appearance.
* History is incomplete.
Alice Dovely
Vital Statistics
Species
Human
Gender
Female
Hair color
Brown
Eye color
Black
Other Statistics
Occupation
Receptionist/book-keeper (incarcerated);
Secretary (fired)
Affiliation
Skillett Showboat (formerly);
Kookie Cola (formerly)
Alice Dovely was Ma and Pa Skillett's receptionist and book-keeper at the Skillett Showboat.
Physical appearance
Insert details here.
Personality
She acted sweet and kindly to the Skillett's (even given her paycheck to help their business) building a parent-daughter relationship, but in reality was only doing this to get their soft drink product which would sell for a high price.
History
Early life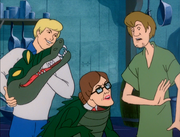 She worked as a secretary to the president of Kookie Cola until she was fired. She then got a job at the Skillett Showboat, plotting her revenge.
The Scooby-Doo Show
Season one
She dressed up as the Ghost of Gator Ghoul to drive the Skillets out of business so she could get control of their product before it was bought out for a high price by Kookie Cola.
Appearances
In other languages
Ad blocker interference detected!
Wikia is a free-to-use site that makes money from advertising. We have a modified experience for viewers using ad blockers

Wikia is not accessible if you've made further modifications. Remove the custom ad blocker rule(s) and the page will load as expected.