This needs a stretch. (Feel to remove when satisfied of completion.)
Needed: History.
Alien (Area 51 Adjacent)
Vital Statistics
Species
Alien
Gender
Male
Eye color
Green (black sclera)
Other Statistics
Identity
General Stall
Reason
To prove the existence of aliens so Area 53 would get better funding, and he could keep his job there
The alien was the disguise of General Stall.
Physical appearance
The alien looked like a stereotypical gray alien, with glowing green skin, a gaunt body, a dome shaped head , sharp teeth, and large eyes.
Personality
Contrary to Daphne's wishes, the alien was a highly aggressive, hostile, and dangerous creature.
Powers and abilities
The alien was incredibly agile and possessed incredible climbing skills.
History
Be Cool, Scooby-Doo!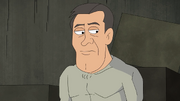 Insert details here.
Appearances
Ad blocker interference detected!
Wikia is a free-to-use site that makes money from advertising. We have a modified experience for viewers using ad blockers

Wikia is not accessible if you've made further modifications. Remove the custom ad blocker rule(s) and the page will load as expected.