This needs a stretch. (Feel to remove when satisfied of completion.)
Needed: Synopsis.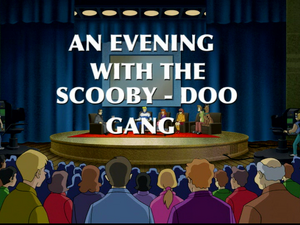 An Evening with the Scooby-Doo Gang is a 6-minute episode based on the Scooby-Doo Saturday morning cartoons.
Premise
The Mystery Inc. gang is being interviewed in front of a live audience by a mysterious reporter...
Synopsis
Insert details here.
Characters
Main characters:
Supporting characters:
Villains:
Other characters:
Locations
Objects
Vehicles
Cast
Continuity
The interviewer asks the gang to share their thoughts on Chupacabra, the Tar Monster, an alien and Morgan Moonscar which happened in the DTV, Scooby-Doo! and the Monster of Mexico, the The Scooby-Doo Show episode, The Tar Monster, and the DTVs, Scooby-Doo and the Alien Invaders and Scooby-Doo on Zombie Island, respectively.
Yogi Bear, a fellow Hanna-Barbera character, appears to be a friend of Scooby's. They were rival in the Laff-a-Lympics.
Notes/trivia
Cultural references
Animation mistakes and/or technical glitches
Inconsistencies/continuity errors and/or goofs/oddities
Home media
Quotes
Ad blocker interference detected!
Wikia is a free-to-use site that makes money from advertising. We have a modified experience for viewers using ad blockers

Wikia is not accessible if you've made further modifications. Remove the custom ad blocker rule(s) and the page will load as expected.