| | |
| --- | --- |
| | This needs a stretch. (Feel to remove when satisfied of completion.) |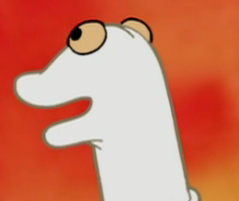 "Andy" is Agent 2's name for his sock puppet, which he started using when he stood in for Dr. Phineus Phibes' psychiatrist.
Physical appearance
It's white. The bulging "eyes" attached resembles tan pupils with black dots for pupils.
Personality
Insert details here.
History
Shaggy & Scooby-Doo Get A Clue!
Season two
Phibes found it so annoying in the end that he stuck Agent 2's hand into the ocean to "drown" the puppet. (Cruisin' For A Bruisin')
Agent 2 brought Andy out again when he was under the influence of stupidity gas. (Don't Get A Big Head)
Appearances
Notes/trivia
Jeff Bennett voices both Andy and Agent 2. Apparently this needed to be recognised in the end credits, perhaps in case people thought someone else did it.
Ad blocker interference detected!
Wikia is a free-to-use site that makes money from advertising. We have a modified experience for viewers using ad blockers

Wikia is not accessible if you've made further modifications. Remove the custom ad blocker rule(s) and the page will load as expected.