This needs a stretch.
Needed:
* Physical appearance.
* Personality.
* History.
Angus Haggart
Vital Statistics
Species
Human
Gender
Male
Hair color
Red
Eye color
Black
Angus Haggart is one of the two quarreling sons of Lachlan Haggart.
Physical appearance
Angus is a Caucasian male, with red hair. He is way more muscular than his brother, Colin, with a huge chest and very strong arms.
Personality
Insert details here.
History
Scooby-Doo! and the Loch Ness Monster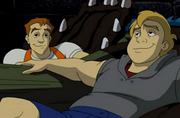 He and his brother were hired by Prof. Fiona Penbrooke to run the land-going version of the Loch Ness Monster, to convince Sir Ian Locksley that Nessie was real so he would take her photos seriously. They did it more as a prank than for the money.[1]
Appearances
References