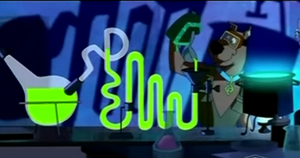 The Antidote to Aphrodite was a formula Professor Pericles knew how to make that would free the victims of Aphrodite's love potion.
Ingredients
Appearances
Notes/trivia
The above ingredients were a ruse and not required for the antidote at all. Pericles had his own reasons for going to those places: to get a shipping manifest from a conquistador's ship, an industrial-quality rock-piercing drill bit, and mining reports from the Darrow Mining Company. He was after the lost treasure all along.
Ad blocker interference detected!
Wikia is a free-to-use site that makes money from advertising. We have a modified experience for viewers using ad blockers

Wikia is not accessible if you've made further modifications. Remove the custom ad blocker rule(s) and the page will load as expected.