This needs a stretch. (Feel free to remove when satisfied of completion.)
Needed:
* Physical appearance.
* History is missing details.
* Apocryphal.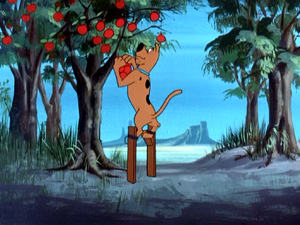 An apple is a fruit grown on apple trees.
Physical appearance
Insert details here.
History
Scooby-Doo, Where Are You!
Season one
While the gang talked outside the Gold City Guest Ranch to Big Ben about the illegal activity of Hank in the Gold City Mine, and the outcome, Scooby-Doo went picking for apples, with Hank's stilts. Shaggy Rogers wondered where Scooby was just before he was to trip on a gopher, but it was still too late, and the Great Dane dropped all the apples as he fell into a trough. While in there he happily retrieved two of them as the gang laughed.[1]
An apple was among the trash launched at Scooby by a pink dog for not requiting her affections to him. Quickly, Shaggy caught it all in his hat, as Scooby had to keep clean while out acting as a show dog.[2]
A couple of apples were on the gang's picnic blanket.[3]
Season two
Shaggy took a bite of an apple at the wax museum, but it only turned out to be made of wax as well.[4]
The New Scooby-Doo Movies
Season one
Insert details here. (The Ghost of the Red Baron)
The Scooby-Doo Show
Season one
All the while the gang was explaining Officer Oldfield's schem to the Sheriff, Scooby ate an apple, which got interrupted half way through by an angry worm, who finished the rest off it off in a speedy manner.[5]
Scooby-Doo and Scrappy-Doo (second series)
Season three
The guys were flatten by giant apples when their time machine took them back to the stone age. They took some with them when they returned to their own time. (One Million Years Before Lunch)
Scooby-Doo and the Alien Invaders
Apples and other fruits were in a bowl on the counter of Sergio's Diner.[6]
What's New, Scooby-Doo?
Season one
It was among the different types of food in the mountain resort's gift basket.[7]
It was in a vending machine at the Costa Rican Museum.[8]
Scooby-Doo! and the Goblin King
Insert details here. (Scooby-Doo! and the Goblin King)
Scooby-Doo! Mask of the Blue Falcon
Insert details here. (Scooby-Doo! Mask of the Blue Falcon)
Appearances
Apocryphal
Johnny Bravo
Insert details here. (Bravo Dooby-Doo)
References
External links