Want some Scooby Snacks?
This article is a stub. You can help Scoobypedia by expanding it. Please remove this tag once the page has been properly expanded.
Baba Yaga (Dragon's Eye)
Vital Statistics
Gender
Female
Hair color
Blue-gray
Eye color
Black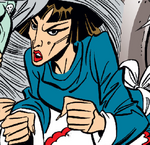 Baba Yaga was the disguise of Irina Molotova, former KGB agent, who stole the gems off a Faberge egg for Lee Shiu Shian, the Dragon's Eye collector.
Physical appearance
She is green-skinned witch with red eyes.
Personality
Powers and abilities
She can fly using a giant mortar and pestle. This is actually a disguised hover-platform developed by the Soviet military.
Appearances
Quotes
Notes/trivia
Velma noted that Baba Yaga is a witch from Russian folklore. She lives in a house that stands on chicken legs, and she can fly using a giant mortar and pestle.