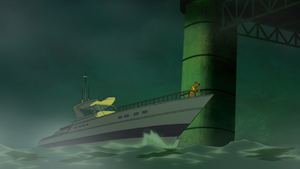 The expensive boat is owned by Barty Blake, and to a lesser extent his family.
History
Scooby-Doo! Mystery Incorporated
Season one
The boat was disguised as Mai Le's getaway boat back to China, with the Dragon's Heart. But she was captured by Fred Jones' net, which impressed Barty and Nan, finally earning their approval of him dating their daughter, until they got caught in another of his nets.[1]
Velma Dinkley "borrowed" the boat to follow up on a lead a missing sardine boat, during which she met the tipper, a singing mermaid, and attacked by the Fish Freaks, but she managed to escape. The rest of the gang joined her in going to the abandoned oil platform at Dead Man's Point, where the Fish Freaks were trying to start it up again.[2]
Appearances
References
Ad blocker interference detected!
Wikia is a free-to-use site that makes money from advertising. We have a modified experience for viewers using ad blockers

Wikia is not accessible if you've made further modifications. Remove the custom ad blocker rule(s) and the page will load as expected.