This needs a stretch. (Feel free to remove when satisfied of completion.)
Needed: History.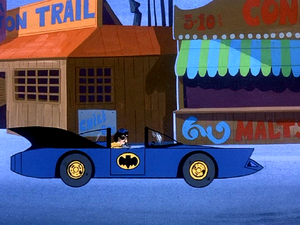 The Batmobile is the ground transportation for Batman and Robin.
History
The New Scooby-Doo Movies
Season one
Insert details here. (The Dynamic Scooby-Doo Affair)
Insert details here. (The Caped Crusader Caper)
Appearances
Notes/trivia
Background in other media
The vehicle that became the Batmobile first appeared in DC Comics's Detective Comics #27 (May 1939). It was created by artist, Bob Kane, and writer, Bill Finger.
Its first animated appearance was in Filmation's The Batman/Superman Hour, in segments called The Adventures of Batman, which were then later repackaged as Batman with Robin the Boy Wonder. It also appeared in Hanna-Barbera's Super Friends, and the subsequent spin-offs.
References
External links