This needs a stretch. (Feel free to remove when satisfied of completion.)
Needed:
* Physical appearance; clothing.
* Personality.
* History is incomplete.
Baylor Hotner
Vital Statistics
Species
Human
Gender
Male
Hair color
Brown
Eye color
Black
Other Statistics
Occupation
Actor; student (incarcerated, pre-Nibiru)
Baylor Hotner was an actor known for his role as a were-turtle in the Dusk movies.
Physical appearance
Baylor is a very muscular, ethnically-ambiguous teenaged male. He has a chiseled chin and has abs on his back which Daphne Blake called "babs".
Personality
Insert details here.
History
Early life
He dated Daphne when he came to Crystal Cove for research for his latest film, Dusk 4: Still Dusk, and after the break-up of her engagement with Fred Jones, Jr..[1]
Scooby-Doo! Mystery Incorporated
Season two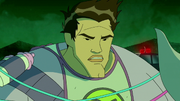 During his date with Daphne at the Bloody Stake restaurant he told her that he would be going to Africa within a month to promote his "Green Jeans" clothing, and that he would like her to come along. As they were leaving Fred tried to get Daphne back with the gang as she was the last to re-join, but she mistook him for a hobo due to his new appearance and got Baylor to give Fred his own brand of protein candy bar.[1]
He was revealed to be Crybaby Clown, to perfect his role in a new upcoming movie, and he was only using Daphne.[2]
Post-Nibiru
When the Evil Entity was destroyed, it altered all of reality for Crystal Cove; thus the Crybaby Clown wasn't a disguise in the past.[3]
Appearances
Notes/trivia
Baylor is a parody of Taylor Lautner, as does his role as a were-turtle in the Dusk movies which parallels Lautner's role as Jacob Black, a werewolf in the Twilight movies.
Baylor's voice actor, Matt Lanter, portrays Anakin Skywalker in Star Wars: The Clone Wars. His alter-ego as the Crybaby Clown is voiced by Mark Hamill, best known for his role as Anakin's son, Luke Skywalker, in the original live-action trilogy film series.
In other languages
References