This article is about the animated product. For the product in the Scooby Apocalypse comic, see Blake Bubble Bath (Scooby Apocalypse).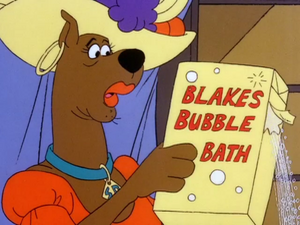 Blake's Bubble Bath is the product Nedley Blake used to make his large fortune. He keeps samples of it around to give his party guests. Its slogan is "Billowing Bubbles for a Bountiful Bath."
Appearances
Ad blocker interference detected!
Wikia is a free-to-use site that makes money from advertising. We have a modified experience for viewers using ad blockers

Wikia is not accessible if you've made further modifications. Remove the custom ad blocker rule(s) and the page will load as expected.