This page is about the level. For the location, see Blake's Hotel.
| | |
| --- | --- |
| | This needs a stretch. |
Earn a ride in the Mystery Machine!
This article needs Improving; you can help Scoobypedia by Improving one or more of the following

Content
Links
Grammar/spelling

Please remove this template once the page is Adequately Improved.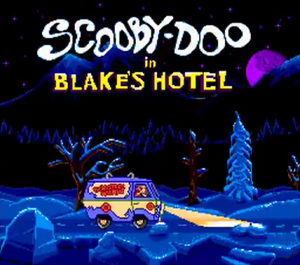 The Blake's Hotel is the first stage of the game, Scooby-Doo Mystery for the Sega Genesis.
About the stage
Daphne's Uncle Blake invites Scooby and the gang to his hotel up in the mountains. When the gang arrives, they learn that a monster has been scaring off Uncle Blake's customers and, if it doesn't stop soon, Uncle Blake may go bankrupt due to lack of business.
Maze help
-------------------------   ------ EXIT
     |            |              |
     |  -------------------      |  ---
     |  |                        |    |
     |  |  |------------------   ---- |
     |  |  |                 |      | |
     |     |---              ----  -- |
     |     |                    |  |  |
     ----  -----     ----       ------|
        |   |  |        |             |
        |   |  |        |-------      |
        -----           |      |      |
     |     |      |     |  |   |      |
     |     |      |     |  |   -------|
     --------------  ---|  ---        |
          |          |  |    |     ---|
          |          |  |    |        |
    START ----------------- --------- |

The Lobby
The Office
The Cafe
The Kitchen
The Hallway
The Gardener's Room
Outside The Hotel
Across The River
The Basement
The Mine
The Shaft
The Pond
The Maze
The Tomb
The Dungeon