This needs a stretch. (Feel to remove when satisfied of completion.)
Needed: * History is incomplete.
Bram
Vital Statistics
Species
Human
Gender
Male
Hair color
Black
Eye color
Purple
Bram is the leader of the Fangenschanz acting troupe.
Physical appearance
He has dark hair and purple eyes. He often wears a pink long-sleeved shirt when performing (and a red one when not), jeans and black boots. He also has fangs, as do all of the Fangenschanz.
Personality
He was charming, especially to Daphne Blake. He believed in vampire lore and wanted to become a real vampire.
History
Scooby-Doo! Music of the Vampire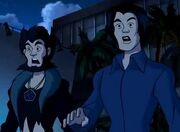 He believed that his troupe's enactment of a vampire resurrection ritual had raised a real vampire, Lord Valdronya. He believed they would be rewarded with immortality, by being converted into real vampires, if he provided a "vampire bride" to Valdronya.
Scooby-Doo! Mask of the Blue Falcon
Apparently having served his time, he attended the screening of the trailer for the new Blue Falcon film at the Hotel San De Pedro where Mr. Hyde attacked and summoned his Hideous Hyde Hound. When it cornered Wulfric Von Rydingsvard and Bram, Daphne kicked a swimming pool-lawn chair in front of it, allowing the two to escape.
Appearances
Discography
Notes/trivia
His name comes from Bram Stoker, author of the 1897 novel Dracula.
In other languages
Ad blocker interference detected!
Wikia is a free-to-use site that makes money from advertising. We have a modified experience for viewers using ad blockers

Wikia is not accessible if you've made further modifications. Remove the custom ad blocker rule(s) and the page will load as expected.