This needs a stretch. (Feel to remove when satisfied of completion.)
Needed: History.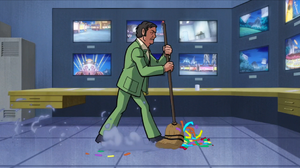 A broom is a cleaning tool consisting of usually stiff fibers (often made of materials such as plastic, hair, or corn husks) attached to, and roughly parallel to, a cylindrical handle, the broomstick. It is thus a variety of brush with a long handle.
History
What's New, Scooby-Doo?
Season one
Insert details here. (3-D Struction)
Scooby-Doo! and the Goblin King
Insert details here.
Scooby-Doo! and KISS: Rock and Roll Mystery
Insert details here.
Appearances
References
External links
Ad blocker interference detected!
Wikia is a free-to-use site that makes money from advertising. We have a modified experience for viewers using ad blockers

Wikia is not accessible if you've made further modifications. Remove the custom ad blocker rule(s) and the page will load as expected.