This needs a stretch. (Feel free to remove when satisfied of completion.)
Needed:
* Physical appearance is missing info.
* History is missing info.
Buck Masters
Vital Statistics
Alias
Mr. Masters
Species
Human
Gender
Male
Hair color
Brown
Eye color
Black
Other Statistics
Occupation
Show dog owner (incarcerated)
Buck Masters was the owner of Big Red, a champion show dog.
Physical appearance
Mr. Masters is a middle-aged Caucasian male, with brown hair, and a thick mustache.
Personality
He seemed rather concerned about who dognapped Big Red, even offering a reward to anyone who could find it, but was only throwing himself off of suspicion.
History
Scooby-Doo, Where Are You!
Season one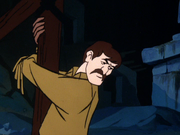 He wanted to win a dog show, so he kidnapped all the other dogs who were a threat, and to cover his tracks, he dressed up as the Indian Witch Doctor.
Appearances
Notes/trivia
Buck Masters and Bob Miller have the same initials.
It's unclear what relationship Mike and Indian Witch Doctor/Buck Masters had, but it was enough that he knew the former by name.