| | |
| --- | --- |
| | This needs a stretch. (Feel to remove when satisfied of completion.) |
Burger Binge
Vital Statistics
Type
Restaurant
The Burger Binge is a restaurant.
Employees
Physical appearance
Insert details here.
History
Scooby-Doo! Abracadabra-Doo
After capturing the Chemical Creep, Shaggy Rogers and Scooby-Doo suggested going there to celebrate another case successfully closed, but Velma Dinkley persuaded them to go see her sister in her magic school.
Scooby-Doo! WrestleMania Mystery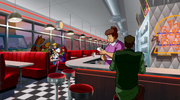 There Shaggy and Scooby asked the rest of the gang to go with them to WWE City. Fred Jones, Velma Dinkley and Daphne Blake refused, so Shaggy showed them some photos where he and Scooby were wearing ridiculous disguises because they were used as live bait for catching monsters. When he showed them a picture of Scooby furless, Fred Jones and Velma Dinkley caved, and eventually Daphne Blake when she remembered Shaggy saying that Scooby was almost milked and Scooby saying that his fur didn't grow back in some places.
Appearances
Notes/trivia
Ad blocker interference detected!
Wikia is a free-to-use site that makes money from advertising. We have a modified experience for viewers using ad blockers

Wikia is not accessible if you've made further modifications. Remove the custom ad blocker rule(s) and the page will load as expected.