This article is about the original incarnation from the Scooby-Doo, Where Are You! episode, A Clue for Scooby Doo. For other incarnations, see Captain Cutler (disambiguation).
This needs a stretch. (Feel free to remove when satisfied of completion.)
Needed:
* Physical appearance; clothing.
* History is missing details (e.g. his capture).
* DC story.
Captain Cutler
Vital Statistics
Species
Human
Gender
Male
Hair color
Gray
Eye color
Black
Other Statistics
Occupation
Sailor (faked death); thief (incarcerated)
Family
Mrs. Cutler (wife)
Captain Cutler was a sailor turned thief.
Physical appearance
Captain Cutler is a middle-aged Caucasian male. Although bald on top, his remaining hair is gray. He also has bushy gray eyebrows. When he was a sailor, he had a long gray beard.
Personality
He remained silent when finally being caught.
History
Early life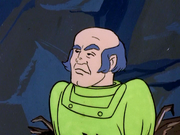 He was a sailor who supposedly died in a shipwreck with a yacht.[1]
Scooby-Doo, Where Are You!
Season one
The gang investigated the Ghost of Captain Cutler, who had returned, making yachts disappear in revenge. They discovered it was the real Cutler in a diving suit, covered in phosphorescent glowing seaweed. He used this disguise to actually steal the ships, in collusion with his supposed widow, who pretended to be a witch, and to have brought him back as a ghost by her magic.[1]
Appearances
Apocryphal
Scooby-Doo! (DC Comics)
The case was retold, from Cutler's point-of-view.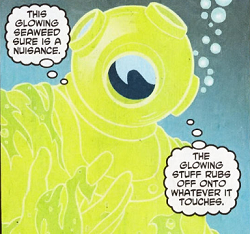 Insert details here. (Those Meddling Kids)
Notes/trivia
While it's not explicitly confirmed, Captain Cutler could be retconned as a citizen of Coolsville, the town the gang grew up in as kids as depicted in A Pup Named Scooby-Doo.
Even with his beard, Captain Cutler looks different in his portrait.
References