This article is about the chandelier from standard continuity. For the one from Scooby-Doo! Mystery Incorporated, see Chandelier (Scooby-Doo! Mystery Incorporated).
This needs a stretch. (Feel to remove when satisfied of completion.)
Needed:
* Physical appearance.
* History is missing Scooby-Doo on Zombie Island info.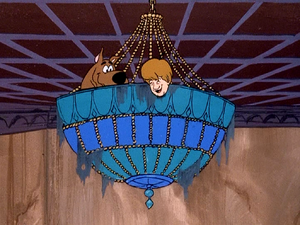 A chandelier is a decorative ceiling-mounted light fixture.
Physical appearance
Insert details here.
History
Scooby-Doo, Where Are You!
Season one
In a random act of courage, Scooby-Doo backed the Wolfman underneath a medieval chandelier (by pretended to be a highly unconvincing werewolf, himself, with piano keys in his mouth), where Shaggy Rogers let it fall on top of him.[1]
Scooby-Doo and Shaggy hid from the green ghosts in a chandelier. Possibly because of their laughing from thinking they had the ghosts fooled, one of them knew where they were and cut the chandelier down, from a secret removal panel in the ceiling, sending them crashing down through the floor, and into the wine cellar.[2]
The New Scooby-Doo Movies
Season one
The secret uranium mining shook the entire 3 Stooges Ghost Town, forcing the Golden Dollar's chandelier loose and almost crushing the Three Stooges, if not for Moe holding a large plate above them all, while they were on top of one another.[3]
Scooby-Doo on Zombie Island
Insert details here.
Appearances
Gallery
References
External links
Ad blocker interference detected!
Wikia is a free-to-use site that makes money from advertising. We have a modified experience for viewers using ad blockers

Wikia is not accessible if you've made further modifications. Remove the custom ad blocker rule(s) and the page will load as expected.