Chandelier (Scooby-Doo! Mystery Incorporated)
Talk

0
Share
Ad blocker interference detected!
Wikia is a free-to-use site that makes money from advertising. We have a modified experience for viewers using ad blockers

Wikia is not accessible if you've made further modifications. Remove the custom ad blocker rule(s) and the page will load as expected.
This article is about the chandelier from Scooby-Doo! Mystery Incorporated continuity. For the one from standard continuity, see Chandelier.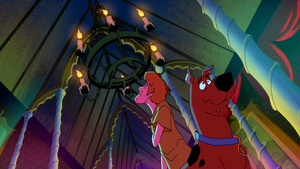 A chandelier is a decorative ceiling-mounted light fixture.
Physical appearance
Insert details here.
History
Scooby-Doo! Mystery Incorporated
Season one
While looking around Vincent Van Ghoul's mansion, he was creeped out by the medevial style chandelier hanging from the ceiling of the first floor.[1]
Appearances
References
{{DEFAULTSORT:Chandelier (Scooby-Doo! Mystery Incorporated)}