Ad blocker interference detected!
Wikia is a free-to-use site that makes money from advertising. We have a modified experience for viewers using ad blockers

Wikia is not accessible if you've made further modifications. Remove the custom ad blocker rule(s) and the page will load as expected.
This article is about the object. For the monster who poses as one in The New Scooby-Doo Movies episode, Ghastly Ghost Town, see Geronimo (Ghastly Ghost Town).
This needs a stretch.
Needed: History.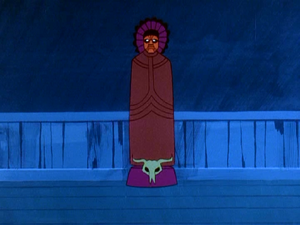 The cigar store Indian is an advertisement figure, in the likeness of a Native American, used to represent tobacconists.
Physical appearance
The figures are often three-dimensional wooden sculptures several feet tall – up to life-sized.
History
Scooby-Doo, Where Are You!
Season one
Insert details here. (Mine Your Own Business)
The New Scooby-Doo Movies
Season one
Insert details here. (Ghastly Ghost Town)
Appearances
References
External links