This article is about the object. For the monster who poses as one in The New Scooby-Doo Movies episode, Ghastly Ghost Town, see Geronimo (Ghastly Ghost Town).
This needs a stretch.
Needed: History.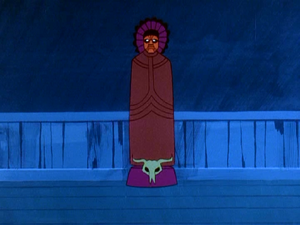 The cigar store Indian is an advertisement figure, in the likeness of a Native American, used to represent tobacconists.
Physical appearance
The figures are often three-dimensional wooden sculptures several feet tall – up to life-sized.
History
Scooby-Doo, Where Are You!
Season one
Insert details here. (Mine Your Own Business)
The New Scooby-Doo Movies
Season one
Insert details here. (Ghastly Ghost Town)
Appearances
References
External links