| | |
| --- | --- |
| | This needs a stretch. |
Template:Character Infobox
Codefinger is a master spy who stole Myrtle, a top-secret coding device, from a military installation.
Physical appearance
Insert details here.
Personality
Insert details here.
Skills and abilities
He had a gas spray built into his costume, but the ace up his sleeve was his disguise as Major Berch, head of security.
History
The New Scooby-Doo Mysteries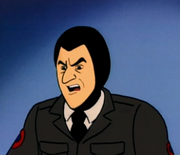 Insert details here. (A Code in the Nose)
Appearances