| | |
| --- | --- |
| | This needs a stretch. |
Colin Haggart
Vital Statistics
Gender
Male
Hair color
Blond
Eye color
Black
Colin Haggart is one of the two quarreling sons of Lachlan Haggart.
Physical appearance
Insert details here.
Personality
Insert details here.
History
Scooby-Doo! And The Loch Ness Monster
He and his brother were hired by Prof. Fiona Penbrooke to run the land-going version of the Loch Ness Monster, to convince Sir Ian Locksley that Nessie was real so he would take her photos seriously. He did it more as a prank than for the money.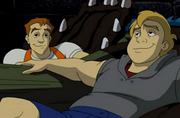 Appearances
Quotes
"Oops. Slip right out of me hands."
"So long, Angus. Don't forget to write. Ha ha ha ha ha ha ha ha!
"It's just a joke, dad."
"Hang on, nitwit! I'm coming!"