This needs a stretch. (Feel to remove when satisfied of completion.)
Needed:
* Physical appearance; clothing.
* History.
Colson McCready
Vital Statistics
Alias
McCready
Species
Human
Gender
Male
Hair color
Dark brown
Eye color
Black
Colson McCready is the owner of the Crystal Canopy Tour Company, experienced caver, and the discoverer of the Crystal Canopy.
Physical appearance
Colson is a tall, muscular, Caucasian male, with balding dark brown hair.
Personality
He appeared outwardly warm and friendly, but secretly he harbored a darker, scheming side.
History
Early life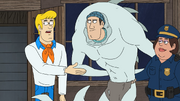 One day, while exploring some caves, he discovered the Crystal Canopy, and decided that it should be shared with the world, so he started the Crystal Canopy Tour Company.
Be Cool, Scooby-Doo!
When he learned that Dr. Lang wanted to close down the Crystal Canopy to the public, he disguised himself as the Crystal Crawler in an attempt to cut his losses.
Appearances
In other languages
Ad blocker interference detected!
Wikia is a free-to-use site that makes money from advertising. We have a modified experience for viewers using ad blockers

Wikia is not accessible if you've made further modifications. Remove the custom ad blocker rule(s) and the page will load as expected.