Ad blocker interference detected!
Wikia is a free-to-use site that makes money from advertising. We have a modified experience for viewers using ad blockers

Wikia is not accessible if you've made further modifications. Remove the custom ad blocker rule(s) and the page will load as expected.
This article is about the standard continuity Coolsville. For other incarnations, see Coolsville (disambiguation).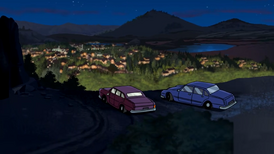 Coolsville is the hometown of Mystery Inc..
Known locations
Blake Manor
Daphne Blake's family owns an extravagant mansion in Coolsville.
Scooby-Doo's doghouse
Scooby-Doo's doghouse (when he was a puppy) was located in the back garden of the Rogers home. The inside of the doghouse is much larger than it appears from the outside and has been shown to include a indoor pool, tennis court and many other luxuries such as a humongous kitchen.
Rogers' home
Shaggy Rogers's home from when he was younger has been shown to be an average home with a large kitchen and a living area.
Fred, Scooby and Shaggy's home
When the gang grew up they split into two houses for the boys and the girls. Here they make stops when they come back to Coolsville. The two houses are close together since both are on the same letter carrier route. The guys' house is a modest 2-story home with a gourmet kitchen.[1]
Daphne and Velma's home
The other home is a pink house with a pretty front yard. The front room has a laboratory for Velma, a living room, and a small kitchen and dining area.[1]
Doo Manor
Doo Manor is a big mansion, owned by Scooby's parents when he was a puppy.
Known landmarks
Appearances
Apocryphal
Scooby-Doo (DC Comics)
Insert details here. (Reincarnation Ruckus!)
Insert details here. (High School Ghoul)
Insert details here. (Prom Fright)
Insert details here. (Cheers For Fears)
Novels
Insert details here. (Scooby-Doo! and the Rotten Robot)
Insert details here. (Scooby-Doo! Museum Madness)
Insert details here. (Scooby-Doo! And The Creepy Chef)
Insert details here. (Scooby-Doo! and the Fishy Phantom)
References