This needs a stretch. (Feel free to remove when satisfied of completion.)
Needed:
* Personality.
* History section is missing SDWAY details.
Cosgood Creeps
Vital Statistics
Alias
Mr. Creeps; Creeps
Species
Human
Gender
Male
Hair color
Gray
Eye color
Black
Other Statistics
Occupation
Attorney (incarcerated)
Affiliation
Creeps and Crawls (formerly)
Cosgood Creeps was the attorney of Colonel Beauregard Sanders. His partner was Cuthbert Crawls.
Physical appearance
Cosgood is a middle-aged Caucasian male with gray hair. He wears a light green suit, with black shoes, a dark green tie, and a white undershirt.
Personality
From his menacing behavior, it could be shown that he's up to something no good.
History
Scooby-Doo, Where Are You!
Season one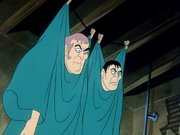 He, along with his partner Mr. Crawls, dressed up as green ghosts to scare away Col. Beauregard Sanders's guests (including the gang and Scooby-Doo, the latter of whom was also a potential inheritor) so they could have control of his fortune.[1]
Scooby-Doo! Frankencreepy
Some of the case was highlighted on Daphne Blake's webshow after Shaggy Rogers got the Phantom Shadow case confused with the Mamba Wamba case.
It was then shown again from Velma Dinkley's phone (including the unmasking) after the gang caught the revenge-seeking conspiracy group, involving Crawls.[2]
Appearances
Apocryphal
Supernatural
Brothers Sam and Dean Winchester were sucked into A Night of Fright is No Delight by a real ghost where they witnessed the beginning of Cosgood's plot, where he delivered his speech to Colonel Sanders' heirs. Dean identified Cosgood as the villain to Sam, who commented "no kidding."
In this instance, Cosgood was killed by the real ghost who took on the form of one of the fake Green Ghosts. After being captured by the Winchesters with the help of the Scooby Gang, the ghost took on Cosgood's form and allowed himself to be "unmasked" to trick the Scooby Gang into restoring their wholesome mindset.[3]
References