This needs a stretch. (Feel free to remove when satisfied of completion.)
Needed: History is incomplete.
Critter Getters is a monster-hunting business in New York City that was failing because they had a poor reputation for actually catching monsters.
Employees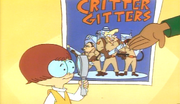 Former employees
History
A Pup Named Scooby-Doo
Season three
Julie called in the gang to help her catch the Moving Mollusk and re-establish the reputation of Critter Getters.
Appearances
Notes/trivia
They seem to be a parody of the Real Ghostbusters.
Building spells the name "Crtter Getters", while the poster says, "Critter Gitters".