Ad blocker interference detected!
Wikia is a free-to-use site that makes money from advertising. We have a modified experience for viewers using ad blockers

Wikia is not accessible if you've made further modifications. Remove the custom ad blocker rule(s) and the page will load as expected.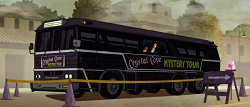 The Crystal Cove Mystery Tour bus is a vehicle Angie Dinkley drives to take tourists around the sights of Crystal Cove as part of one of the attractions of the town's Spook Museum, owned by the Dinkleys.
History
Scooby-Doo! Mystery Incorporated
Season one
It was used for a tour to the neighborhood where the kids were 'spookified'. (The Song of Mystery)
It was attacked by the robot dog. (Howl of the Fright Hound)
Angie Dinkley was caught up 'in the love' along with everyone in the bus. (Where Walks Aphrodite)
Appearances