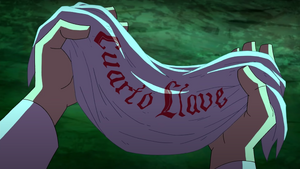 The Cuarto Llave is Spanish for "Fourth Key". It is in the form of a torn piece of sailcloth. The item was originally used by the Benevolent Lodge of Mystery, a mystery solving group in the 1800s.
History
Scooby-Doo! Mystery Incoporated
Season two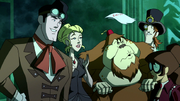 Scooby-Doo found it in a book while they were looking in the Crystal Cove Library for clues to the Dandy Highwayman.[1]
It appeared floating in the air in the time-frozen scene of the Benevolent Lodge of Mystery at the Burlington Library found by Daphne Blake in one of the rooms of the sitting room.[2]
The gang packed it in a bag and brought it along on their mission to find and destroy the Evil Entity.[3]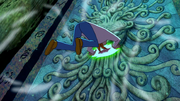 It was vitally important for blocking a wind trap, which was sucking everything and everyone toward a small hole in the door to the Air Dimension. It crippled several Kriegstaffebots, and was about to pull Daphne in, but Fred Jones, Jr. got ahead of her with the Carto Llave.[4]
Appearances
Notes/trivia
Like the other keys, the frozen scene associates it with a Greek element, in this case air.
References
See also