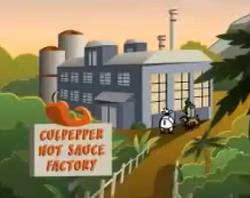 The Culpepper Hot Sauce Factory, run by Clodeius T. Culpepper, claims to use "El Habanero de Mucho Gusto" peppers as a secret ingredient. Shaggy Rogers and Scooby-Doo would like to find the peppers for their own chile recipe, which gets them into an adventure.
Appearances
Ad blocker interference detected!
Wikia is a free-to-use site that makes money from advertising. We have a modified experience for viewers using ad blockers

Wikia is not accessible if you've made further modifications. Remove the custom ad blocker rule(s) and the page will load as expected.