| | |
| --- | --- |
| | This needs a stretch. (Feel free to remove when satisfied of completion.) |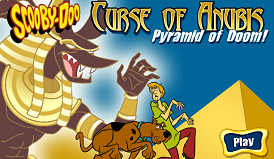 Curse of Anubis - Pyramid of Doom is a sokoban puzzle game with a Scooby-Doo theme. It features one room after another where the object is to push blocks around to make a path through.
The player has to get past each level without taking too many steps or the ghost of Anubis will appear and scare them away.
When the game is completed Anubis's real identity is revealed.