This needs a stretch. (Feel free to remove when satisfied of completion.)
Needed:
* History is incomplete.
* Other continuities.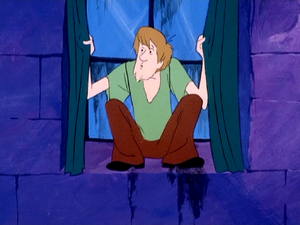 A curtain is a material used mainly in buidlings for variety of reasons; it can shield outside light, especially for sleeping, and it can also contain light for privacy to stop people off the street from looking in. A shower curtain is also used to block water from escaping, and again for privacy. It can also be a useful hiding place.
Physical appearance
A curtain is a piece of fabric with a solid color or design printed on it. The fabric can be cloth, plastic, or many other materials. They are typically hung from a curtain rod, and are used to block out the sunlight or to maintain privacy.
History
A Pup Named Scooby-Doo
Season one
Insert details here. (The Sludge Monster from the Earth's Core)
Scooby-Doo, Where Are You!
Season one
Insert details here. (A Gaggle of Galloping Ghosts)
Season two
Insert details here. (Scooby's Night with a Frozen Fright)
The New Scooy-Doo Movies
Season one
The secret uranium mining shook the entire 3 Stooges Ghost Town, making the Golden Dollar's curtain rail fall down with the curtains.[1]
Appearances
Other continuites
Scooby-Doo! Mystery Incorporated
Daphne Blake slowly pulled back the curtains over a window when she heard Que Horrifico playing a panflute under a streetlamp while she was babysitting Arthur Baywosenthal.[2]
Insert details here. (Nightmare in Red)
References
External links