Daily Babbler
Vital Statistics
Type
Newspaper printing building
Part of
Coolsville
The Daily Babbler is a local newspaper published in Coolsville.
Employees
Former employees
History
A Pup Named Scooby-Doo
Season one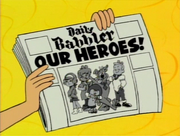 Shaggy Rogers had a paper route with them until the discovery of criminal activities there by his boss forced him to quit.[1]
Shaggy and Scooby-Doo got their picture on the front page when they were accused of stealing samurai swords.[2]
There was a front-page article about the crimes of Stinkweed.[3]
Appearances
Notes/trivia
In the first episode, the Daily Babbler is misspelled frequently, making one believe that there may have been some confusion of the spelling/pronunciation for the animators.

As the gang follow the tire tracks to the Daily Babbler, both signs outside read "Daily Babble" and the sign at the top of the building still shows this while the camera is on the outside while Scooby messes with the elevator.

The only identifiable employees were Mr. Conrad and Shaggy in A Bicycle Built for Boo!, and they both lost their jobs (or quit in the latter's case) by episode's end.
References