Daily Times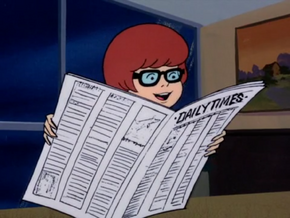 Vital Statistics
The Daily Times is a newspaper.
History
The Scooby-Doo Show
Season one
At a pizza parlor, the gang find that they are low on cash so Shaggy, Scooby and Fred decide to work at a construction site after finding a wanted ad in the newspaper. They also read about some safe robberies in the area.
Appearances
Ad blocker interference detected!
Wikia is a free-to-use site that makes money from advertising. We have a modified experience for viewers using ad blockers

Wikia is not accessible if you've made further modifications. Remove the custom ad blocker rule(s) and the page will load as expected.