Dan Fluunk
Vital Statistics
Species
Human
Gender
Male
Eye color
Black
Other Statistics
Occupation
Caretaker (incarcerated)
Affiliation
Burlington Library (formerly)
Dan Fluunk was the caretaker at Burlington Library.
Physical appearance
He is a bald, middle-aged African American male.
Personality
His nice, cheerful, and inviting personality conceals his insanity he has grown from being in the library ever since he was born.
History
Scooby-Doo! Mystery Incorporated
Season two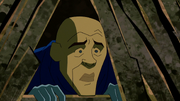 He dressed as an Anubis masked creature and used terror wood to scare everyone away from the library so it could finally close, and he could move someplace warm. However, once he was caught he appeared to be insanely happy about going to prison because he would finally be someplace warm.
He was among some of the culprits Mystery Inc. had unmasked, serving time in prison.
He was abducted by the Kriegstaffebots and was made to dig in the Crystal Cove caves to find the doorway to the Evil Entity.
Post-Nibiru
When the Evil Entity was destroyed, it altered all of reality for Crystal Cove; meaning the Fiend wasn't a disguise in the past.
Appearances
Ad blocker interference detected!
Wikia is a free-to-use site that makes money from advertising. We have a modified experience for viewers using ad blockers

Wikia is not accessible if you've made further modifications. Remove the custom ad blocker rule(s) and the page will load as expected.