This needs a stretch.
Needed: Physical appearance.
* History is missing details.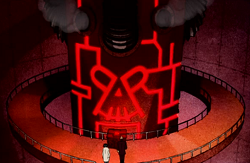 The Doomsday Machine is an invention of Dr. Phineus Phibes. When activated, it would destroy the entire universe other than the Phibes's lair.
Physical apperance
Insert details here.
History
Shaggy & Scooby-Doo Get a Clue!
Season two
It was intended only as a bluff, but the Dr. "Evil" Phibes clone decided to use it to prove he was more evil than the original, after the original pestered him with many crank phone calls.[1]
Appearances
References