This needs a stretch. (Feel to remove when satisfied of completion.)
Needed:
* History is incomplete.
A haunting need for images
Needed: More family images.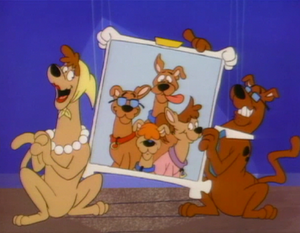 The Doos are a family of Great Danes relating to Scooby-Doo. Most of them have been and still are owned by the Rogerses.
Members
Physical appearance
The Doos are all Great Danes, though they come in varying colors. Most of them, however, come in the standard brown color with black spots.
Personality
Scooby's big appetite may be genetic as Mumsy and Dada Doo had big appetites, especially for pizza.[1] Scooby seems to get his cowardly tendencies from both his parents, but his uncle Horton-Doo his nephew Scrappy-Doo and brother Yabba-Doo are very brave, so possibly there is a cowardly side and a brave side to the Doo family.
History
Early history
Mumsy-Doo gave birth to her first child Scooby-Doo at the Dooville Veterinary Hospital. Dada-Doo named him Scooby because the baby said it first. (It's a Wonderful Scoob)
A Pup Named Scooby-Doo
Season two
On the night before the family reunion at the Knittingham Puppy Farm, Scooby's parent gave him the family collar, which he was forced to wear. However, the Ghost of Buster McMuttMauler, an evil dogcatcher who Mama and Daddy-Doo had arrested years ago, tried to steal the collar. Thanks to the Scooby-Doo Detective Agency, the ghost was caught, and unmasked as the trainer Mr. Trixenstuff, who was taken into custody. The next day the Doo's celebrated Scooby's Birthday. (Curse of the Collar)
Season three
Insert details here. (The Were-Doo of Doo Manor)
Scooby and Scrappy-Doo (second series)
Insert details here. (Scrappy's Birthday)
The New Scooby and Scrappy Doo Show
Insert details here. (Wedding Bell Boos!)
The New Scooby-Doo Mysteries
Insert details here. (A Night Louse at the White House)
The 13 Ghosts of Scooby-Doo
Insert details here. (It's a Wonderful Scoob)
Insert details here. (The Ghouliest Show on Earth)
Appearances
References
Ad blocker interference detected!
Wikia is a free-to-use site that makes money from advertising. We have a modified experience for viewers using ad blockers

Wikia is not accessible if you've made further modifications. Remove the custom ad blocker rule(s) and the page will load as expected.