This needs a stretch.
Needed:
* Members.
* Physical appearance.
* Personality.
* History.
A haunting need for images
Needed: More family images.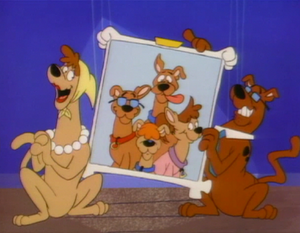 The Doos are a family of Great Danes relating to Scooby-Doo. Most of them have been and still are owned by the Rogerses.
Members
Physical appearance
They're a breed of Great Danes.
Personality
Scooby's big appetite may be genetic as Mumsy and Dada Doo had big appetites, especially for pizza.[1]
Cite error: <ref> tags exist, but no <references/> tag was found