This needs a stretch.
Needed: History.
The Drowsy Gator Hotel is a hotel (and until recently the only running business) in Gatorsburg.
Employees
Hotel rules
Boys and girls in separate rooms.
Stay in one's room, no matter what one hears
No pets in the hotel.
History
Scooby-Doo! Mystery Incorporated
Season one
The gang had to stay there when the Mystery Machine's engine went missing in Gatorsburg.[1]
Appearances
Notes/trivia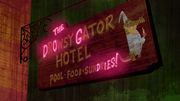 Scooby-Doo was frightened when the neon sign flickered out to read "The dog dies!".
References