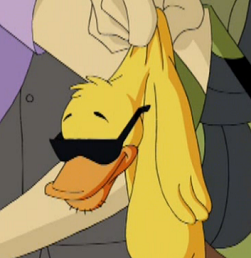 Duck Guy was a favorite bathtub toy of Shaggy Rogers.
Physical appearance
It looks like a regular rubber duck except that it has sunglasses and whisker stubble on the bottom of its bill.
History
Early history
While traveling in Hong Kong it got "totaled" by his battleship.
What's New, Scooby-Doo?
Season three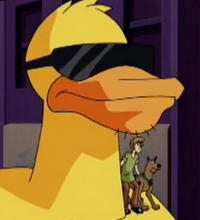 The gang took it to the Ling Toy Co. to get it repaired, but it was eventually converted to a giant toy to fight the Dragon. Shaggy received a new duck from Mei Ling as a replacement and a sign of her affection.
Appearances
Notes/trivia
Ad blocker interference detected!
Wikia is a free-to-use site that makes money from advertising. We have a modified experience for viewers using ad blockers

Wikia is not accessible if you've made further modifications. Remove the custom ad blocker rule(s) and the page will load as expected.