Duke of Strathmore
Vital Statistics
Species
Human
Gender
Male
Hair color
Black
Eye color
Black
The Duke of Strathmore is the cousin of Davy Jones's uncle, Sedgwick Jones.
Physical appearance
The Duke of Strathmore is a Caucasian male with short black hair and a thin mustache. He wears a blue suit with a white shirt underneath and a red tie.
Personality
He was greedy and selfish, wanting to take over Hagglethorn Hall so he could tear it down and make money off of the sale of it bricks, and he was willing to deliberately ruin his cousin's business to do so. Despite this, he hated the idea of his family's name being tarnished, so he was forced to promote tourism for the castle as punishment for his crime instead of simply being sent to jail.
History
The New Scooby-Doo Movies
Season one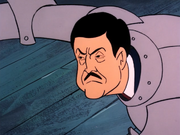 He dressed up as the Haunted Horseman to scare visitors away from Hagglethorn Hall so he could take it over, dismantle the castle, and sell the bricks for souvenirs. He had help from Cyrus Wheedly, a farmer, who dressed as the Moat Monster so he could collect half the money from the sale of the castle. After they were caught, Creech, the castle butler, asked if he should call the authorities. However, the duke pointed out that doing this would bring great shame to the family name. So, instead, the two culprits had to use their disguises to help attract visitors and raise money for Hagglethorn Hall. The duke had to dress up as the Haunted Horseman and ride through the halls three times a day, giving him saddle sores.
Appearances
Ad blocker interference detected!
Wikia is a free-to-use site that makes money from advertising. We have a modified experience for viewers using ad blockers

Wikia is not accessible if you've made further modifications. Remove the custom ad blocker rule(s) and the page will load as expected.