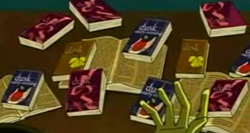 The Dusk novels are a series of teen vampire romance novels by former Darrow University teacher Regina Wentworth.
According to Daphne Blake, the books in the series are as follows:
Dusk
Dusk: Early Evening
Dusk: Just Before Bedtime
Appearances
Quotes
"Author of the Dusk teen vampire romance series? Oh, my gosh! I've read them all! Dusk, Dusk: Early Evening, Dusk: Just Before Bedtime... Forbidden love! Hidden desire! Fred, those books are so us! Just with less... bloodletting."
- Daphne Blake
Notes/trivia
The series is a parody of the Twilight series by Stephenie Meyer. Each cover of a Dusk novel corresponds to a Twilight cover, featuring an apple, a flower, and a ribbon respectively.
There was a movie series adapted from the novels. The title of the fourth movie is Dusk 4: Still Dusk. A were-turtle played by Baylor Hotner is part of the movies.
Ad blocker interference detected!
Wikia is a free-to-use site that makes money from advertising. We have a modified experience for viewers using ad blockers

Wikia is not accessible if you've made further modifications. Remove the custom ad blocker rule(s) and the page will load as expected.