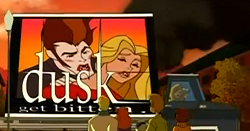 The Dusk Van is a vehicle owned by Darrow University employed to advertise the Dusk novels by Regina Wentworth, while she taught there.
History
Scooby-Doo! Mystery Incorporated
Season one
Prof. H.P. Hatecraft and the gang borrowed it after they lost the Mystery Machine to the Obliteratrix. In the end, Dean Natasha Fenk said she would have the van repainted, because the Dusk books were out of fashion.
Appearances
Ad blocker interference detected!
Wikia is a free-to-use site that makes money from advertising. We have a modified experience for viewers using ad blockers

Wikia is not accessible if you've made further modifications. Remove the custom ad blocker rule(s) and the page will load as expected.