This needs a stretch. (Feel to remove when satisfied of completion.)
Needed:
* Physical appearance.
* Personality.
Ernesto
Vital Statistics
Species
Human
Gender
Male
Hair color
Dark brown
Eye color
Black
Other Statistics
Occupation
Student; activist; musician (incarcerated)
Affiliation
Fellow protestors (Fish Freaks)
Ernesto was the leader of a group of protesters at Darrow University,[1] and was an acquaintance of fellow 'comrade,' Daphne Blake.[2]
Physical appearance
Insert details here.
Personality
Insert details here.
History
Scooby-Doo! Mystery Incorporated
Season one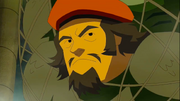 Daphne met him while he was protesting at the Blake Family Center for Self-Named Buildings. Later he protested against Professor H.P Hatecraft confession about Char Gar Gothakon, and showed a song to explain why. But, when the monster showed up, he quickly ended the protest and ran off.[1]
When there was an opportunity to get oil money to fund his protests, he became the leader of the Fish Freaks, who were responsible for several kidnappings.[3]
Season two
He was in the prison cafeteria when Shaggy Rogers and Scooby-Doo had to secretly deliver a Planispheric Disk piece to Fred Jones, Sr. He was then a victim of the attack of Krampus breaking in to get Mary Anne Gleardan.[4]
Appearances
Quotes
Ernesto: You have no idea how expensive it is to be a grass-roots activist!
The Siren's Song
Ernesto: Yes! You must be willing to kill the enviroment to save it!
The Siren's Song
Notes/trivia
He is based on Ernesto "Che" Guevara, a Argentine Marxist revolutionary, physician, author, intellectual, guerrilla leader, diplomat military theorist, who was a major figure of the Cuban Revolution; even sharing the same first name.
Refefences
Ad blocker interference detected!
Wikia is a free-to-use site that makes money from advertising. We have a modified experience for viewers using ad blockers

Wikia is not accessible if you've made further modifications. Remove the custom ad blocker rule(s) and the page will load as expected.