| | |
| --- | --- |
| | This needs a stretch. (Feel to remove when satisfied of completion.) |
| | |
| --- | --- |
| | Things need cleaning up! |
Evil Masked Figure
Vital Statistics
Gender
Male
Eye color
Constantly changing
The Evil Masked Figure, also known as the Evil Masked Guy, was a mysterious masked villain, who was out for revenge against Mystery Incorporated.
Physical appearance
He wore a metal mask, a long black cloak, and gloves. The mask had hair running from the top.
Personality
The masked figure was a cryptic person, leaving clues around like any old villain. He was very smart, as no one else could figure out how to stop the machine.
History
Scooby-Doo 2: Monsters Unleashed
He stole the costumes of the monsters from the Coolsonian Criminology Museum and brought some of the monsters back to life (such as Pterodactyl Ghost, Black Knight Ghost, 10,000-Volt Ghost, Skeleton Men, Cotton Candy Glob, Zombie, Miner 49er, Captain Cutler, and the Tar Monster). The Evil Masked Figure was really Heather Jasper Howe who was in fact Jonathan Jacobo, the original Pterodactyl Ghost who wanted revenge against Mystery Inc..
Appearances
Notes/trivia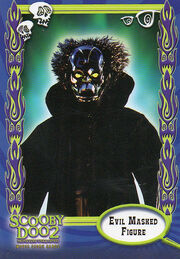 Although both Heather Jasper Howe and Jonathan Jacobo were underneath the Evil Masked Figure, neither of their respective actors (Alicia Silverstone and Tim Blake Nelson) portrayed the villain throughout the film. That part was played by Scott McNeil (voice and all).
His cartoon version can be found in an online game, Scooby Doo 2: Monsters Unleashed Monster Food Fight, as a hard monster to defeat.
Ad blocker interference detected!
Wikia is a free-to-use site that makes money from advertising. We have a modified experience for viewers using ad blockers

Wikia is not accessible if you've made further modifications. Remove the custom ad blocker rule(s) and the page will load as expected.